Batik indigo means batik with blue or bluish color. Sometimes, batik crafter put blue color by natural coloring. That blue come from indigofera leaves. The advatages using natural coloring are eco friendly. There is no harm pollution if we are using natural coloring. Batik with natural coloring have unique characteristics. Compare to batik with chemical coloring. Natural coloring comes not only from leaves but also from any part of plant. like the branch, flower, roots, etc.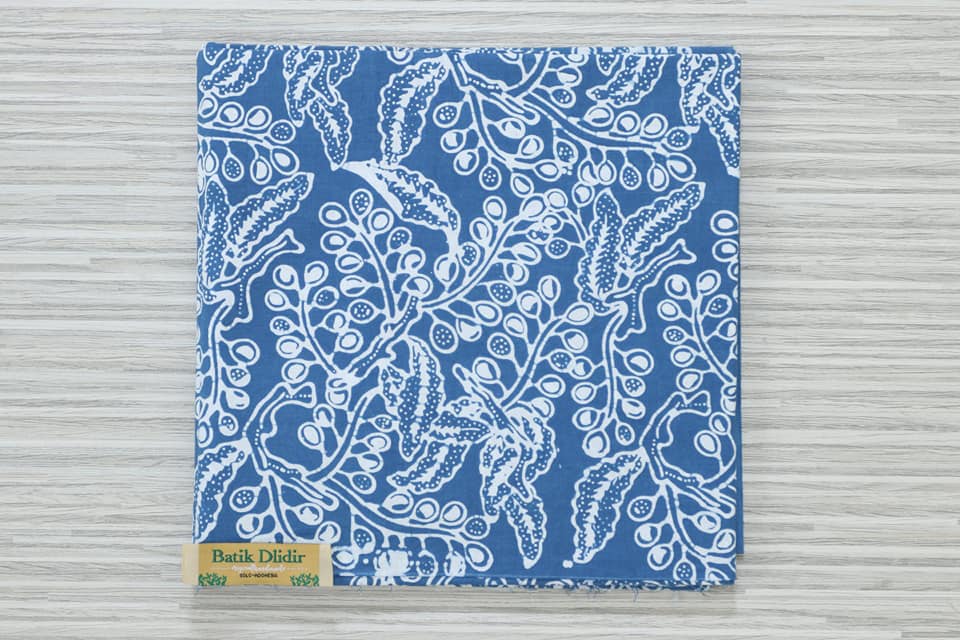 Batik Indigo Fabric
If you want our batik fabric, there's the price range we offer to you:
Batik stamp ( cap ), tie dye, patchwork or roll jelly we give the price of US$ 2.50 per yard. You can order Minimal 500 yards or buy ready stock at least 5 yards.
Batik canting, tulis, traditional, art or java, we give starting price US$ 200.00 jt per pcs (105 cm x 240 cm). You can buy ready stock at least 1 pcs or order with motif according to your choice.
We have indigo batik with stamp and handwritten technique, just choose that suit on you.
We use 100% cotton batik fabric with best quality.
Batik with 100% Cotton
Maybe you ask, what is the real cotton?. Before that topic, better to know about cotton base material is cotton. Cotton is a fine fiber that envelops the seeds of several species of Gossypium (commonly called "trees" or cotton plants), 'bush' plants originating from the tropics and subtropics. Cotton fiber becomes an important material in the textile industry. The fiber can be spun into yarn and woven into cloth. Textile products of cotton fibers commonly referred to as cotton (yarn or cloth).
There are many types of 100 percent cotton in Indonesia. Construction of the yarn that distinguishes between types of one another. In addition, that also seen from the thickness of the threads of cotton fabric.
You can order our batik indonesia via whatsapp on : +62 822 6565 2222 Mr Mudzakir.