Batik fabric jelly rolls is special cutting of fabric into pieces usually to make some projects. We make jelly rolls from stamp smoke batik fabric. It's really nice making rugs, placements, bedcovers, etc. from this batik jelly rolls. They have beautiful gradation colors, with dark or light series. You can choose what you like.
We have thousands pattern of batik stamp smoke. Like dots, coffe bean, stars, flowers, diagonal pattern, spiral, etc. We also making thousands color that rarely get same colors each other because we made batik stamp smoke by hand not machine. The color can depends by wheather. Bright day can make more intense color compared with glommy wheather.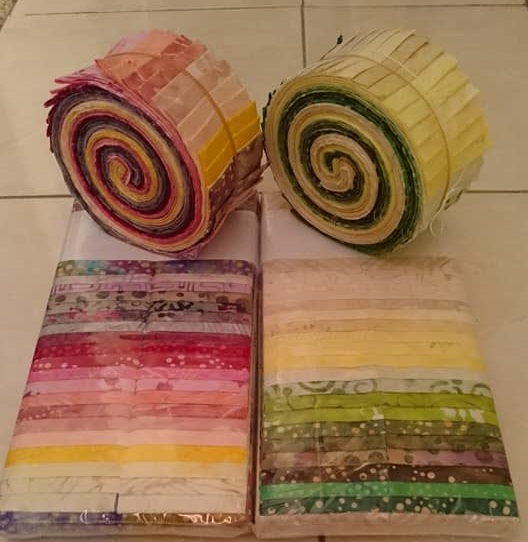 Jelly Rolls Traditional Batik
Jelly rolls batik fabric using tie dye traditional handmade at Batikdlidir, we based on Solo, Indonesia.  Actually to make this creation requires high accuracy. Especially related to the selection of motifs and colors. Because, this jelly roll batik prioritizes beauty in its appearance. So, people who arrange this cloth must also be experts. So, the creations produced are really interesting and beautiful when viewed by the eye.
Actually this creation is almost similar to quilted batik creations. It's just for the arrangement, batik quilt is made by stitching. That is to combine different types and motifs of different batik. Next, the piece of batik cloth was sewn together to form a new piece of batik cloth.
Jelly Rolls Pricelist
However we have two kind of jelly rolls size. First, they have 20 strips of fabric. Second, they have 40 strips of fabric. They are made with poplin cotton original. After this you can check our pricelist below that suit on you. We can send product all over the world.

For more information please contact +62 822 6565 2222 (Mr. Mudzakir). That is available on phone and WhatsApp .